The Cultivated B and McMaster Engineering Sign Memorandum of Understanding for Cellular Agriculture Initiatives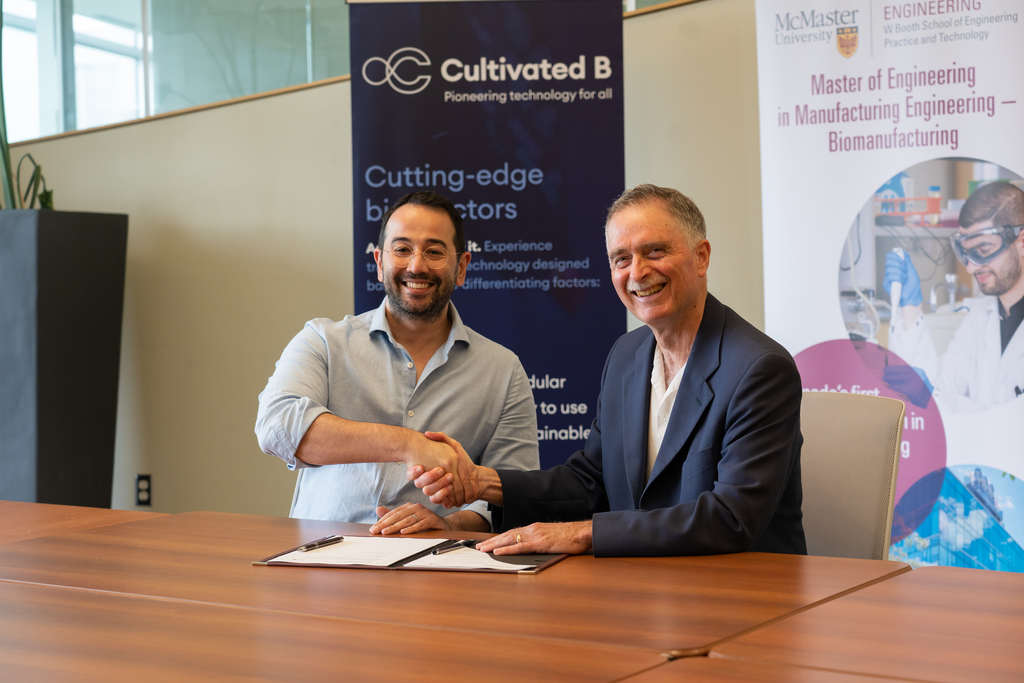 BURLINGTON, Ontario, Sept. 19, 2023 – The signing of a Memorandum of Understanding (MOU) on Sept. 18 between The Cultivated B (TCB) and McMaster University's Faculty of Engineering affirmed a commitment to ongoing collaboration on cellular agriculture projects and talent development.
Cellular agriculture is a rapidly expanding industry that demands innovative solutions for scalability and accessibility. It offers a more sustainable and environmentally friendly approach to protein production, which can play a pivotal role in alleviating food insecurity and addressing resource scarcity.
Researchers from TCB – a global biotechnology company pioneering technology for scalable and sustainable alternative protein production for the food and pharmaceutical industries – will work with faculty and students from two McMaster programs: Bachelor of Technology (B.Tech.) and recently launched Master of Engineering in Manufacturing Engineering: Biomanufacturing Stream.
"Our alliance with McMaster, one of Canada's top-tier universities, emphasizes the importance of collaboration with academics in the field of cellular agriculture," said Dr. Hamid Noori, CEO of The Cultivated B. "We look forward to codeveloping new projects for the cellular agriculture ecosystem and to provide not only TCB's product portfolio but also our expertise."
The MOU focuses primarily on the development of talent and research initiatives to support cellular agriculture innovation in Canada. TCB will also provide McMaster-affiliated companies with access to laboratory space, bioreactor capacity and mentorship through the company's innovation hub in Burlington, Ontario. The 25,000-square-foot hub is in development with TCB partner, Ontario Genomics and will provide cellular agriculture companies a dedicated space to test and scale up their products.
"Partnering with The Cultivated B creates research opportunities for McMaster students while providing experience in an industry ripe with career potential," says Dr. Fei Geng, Program Chair and Associate Professor, B.Tech. Biotechnology in W Booth School of Engineering Practice and Technology. "McMaster is well positioned to make an impact in cellular agriculture with our specialized programs and state-of-the-art facilities, which will be amplified with contributions from our TCB collaborators."
McMaster Engineering enters the MOU with research capacity in cultured meat. Earlier this month, tissue-engineering expert Ravi Selvaganapathy, who holds the Canada Research Chair in Biomicrofluidics, and his team of researchers were named as one group of experts to receive a $10-million CAD investment from Genome Canada through Ontario Genomics. As an active partner in the Genome Canada project, TCB is contributing $500,000 CAD of in-kind research expertise, TCB products and cell lines, as well as access to bioreactor systems in its innovation hub. This is in line with TCB's philosophy to actively shape and promote the growth of the cellular agriculture industry and create win-win opportunities for the ecosystem, academic researchers and commercial applications.